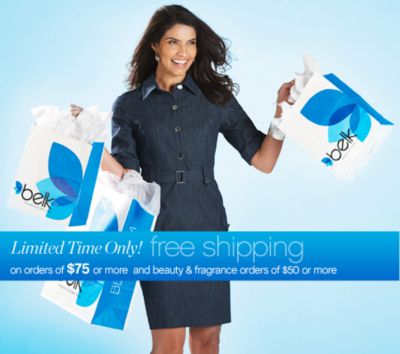 Savings delivered just
for you. Nice.
Enjoy Free Shipping on all your orders of
$75 or more.
Perfect.
Savor Free Shipping
on all your Beauty & Fragrance orders of $50 or more.
Lovely.
$8 Flat Rate Shipping
on all your orders under $75.
Easy.
Ordering a Gift?
Gift boxes are available for most items for just $4.95.
Convenient.
Belk's Easy Return Policy
Return any item to your nearest Belk store or ship it
back to us. Just like that.
Simple.
*Minimum purchase amount for Free Shipping is calculated after coupons, special offers and discounts. Does not include gift box charges, purchase of gift cards or tax. Offer applies to Standard Shipping to one location.