All-Clad Stainless Steel 1-qt. Saucier
We're sorry, but this particular item has sold out online, so you will not be able to add it to your shopping bag. Please try a different color or size, if applicable.
More shallow than a classic sauce pan, the saucier is designed for foods requiring frequent stirring or whisking, including creamy sauces, risotto, polenta and custards. The pan's wider mouth allows for sauce reduction, while its curved sides allow for easy incorporation of ingredients.>
Updates include:
- More comfortable handles
- Engraved capacity marking on most pieces
- Cookware made in USA
- Gift bag included
6.5-in. x 2.5-in.; weighs: 1-lb.
Oven and stovetop safe
Lifetime warranty
Stainless steel, aluminum
Dishwasher safe
Made In USA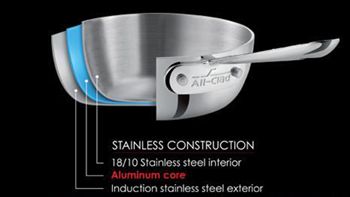 Shipping & Returns
Shipping your purchase is easy on belk.com. Depending on the destination of your package, you can expect it to arrive within 4-7 business days. Shipping Information
Returns are easy on belk.com. Easy returns
American artisans, using American-made metals, handcraft bonded cookware in the tradition that established a new benchmark for professional bonded cookware. At each stage of the manufacturing process, every piece of All-Clad bonded cookware is hand-inspected to ensure that it maintains All-Clad quality standards. This extreme scrutiny slows the production process, but guarantees that every piece of bonded cookware that leaves the Southwest Pennsylvania rolling mill preserves the reputation that precedes it.