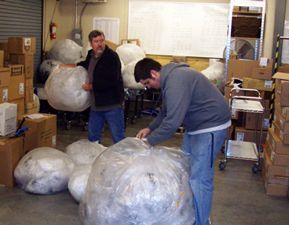 What We Are Doing
Can you envision sustainability? We can.
Our vision is to work together with our vendors, suppliers, associates and customers to achieve a more sustainable future. We're not exactly sure where this journey will take us, but we know that our common efforts will ultimately help ensure a better future for our communities and world.
How we're making it happen
We're moving to view our business through a new lens that we call the Triple Bottom Line: People, Planet and Profits. Our business decisions will take into account not just profits, but also the environment and our community. Our mission is to implement sustainable business practices that lessen our environmental impact and inspire our associates, customers and vendors to do the same.
In Belk Stores and Offices
In Belk stores and offices, we're conserving energy both in our current buildings and in new construction. That includes exploring solar energy in three pilot locations.
We're also reducing waste through recycling and encouraging our associates and customers to engage in environmental giving through our upcoming campaign with EarthShare.
Along Our Supply Chain
Along our supply chain, our private brands are busy making changes, too. We're conserving energy in transportation and production.
And we're reducing waste through more efficient packaging and recycling. Because our supply chain is worldwide, we're engaging partners Li & Fung and Business for Social Responsibility (BSR) to measure and reduce our carbon footprint.

Partnering for best results.
Sustainability is more than a corporate mission. It involves associates, suppliers, customers and other groups who share our goal of protecting and preserving the environment. We are proud to partner with these organizations to create a more sustainable business: