Energy
Building sustainability.
When it comes to conserving energy, size matters. As the nation's largest privately held mainline department store company, we operate more than 300 stores across the Southeastern United States. That's more than 300 opportunities to bring about positive change.
Our new logo signs use light emitting diodes (LEDs) instead of neon lamps, which will reduce energy usage and is expected to result in approximately $100,000 in annual cost savings once all signs have been installed.
Some changes are simple, such as better energy management. Others require a bit more effort and investment.
For us, new construction represents more than a new business opportunity. It's also an opportunity to build a cleaner, more sustainable store. We're partnering with LEED accredited architects and consultants to do just that.
Through a "building modeling" process, we analyze new store construction projects for both economic and environmental impact. The result is high-performance buildings, like our newest store in Port Orange, Fla.
Designed to minimize the use of energy, lighting, water and materials, our Port Orange store achieved Silver LEED certification for environmentally friendly construction. Eco-friendly features include:
Landscaping and reflective pavement
Native plants, reclaimed water and drip irrigation
Energy efficient toilets and faucets
In all our new building projects, we recycle construction waste, diverting it from landfills.
16 Belk Facilities Qualify for ENERGY STAR Designation
We are pleased to report that 16 of our facilities already qualify for consideration as ENGERY STAR buildings for meeting high energy efficiency standards. This includes the Belk corporate office in Charlotte, NC, which recently earned the ENERGY STAR designation from the U.S. Environmental Agency.
The EP's ENERGY STAR program measures the energy efficiency of a building compared to others like it and assigns scores ranging from 1 to 100. A score of 50 means that the building's energy efficiency rating is at the national average. A minimum score of 75 is required to achieve the ENERGY STAR designation.
The energy efficiency of 323 Belk facilities was assessed in Summer 2011 and the average score of all facilities was 53.3.
An ENERGY STAR qualified engineer must certify a facility's energy efficiency rating before it can receive the ENERGY STAR designation.
Rethinking the past to create a bright future.
Our efforts to improve energy efficiency aren't limited to new construction. Existing buildings receive energy upgrades as well. New lighting fixtures. New HVAC units. Our remodelings of older buildings incorporate materials and practices from our Port Orange store.
Our goal is to incorporate LEED ideas into all of our remodeling efforts. We're retrofitting today's technology into yesterday's stores for a cleaner, more sustainable future.
LEED (Leadership in Energy and Environmental Design)
Green Building Rating System™ is administered by the U.S. Green Building Council (USGBC) and is the nationally accepted benchmark for the design, construction and operation of high performance green buildings.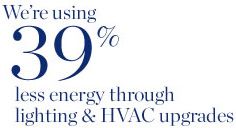 We're exploring solar energy as well, with encouraging results. Three of our North Carolina locations have successfully piloted a solar energy program: the Belk corporate office in Charlotte, and our stores at Carolina Place Mall in Pineville, and Alamance Crossing in Burlington. On the basis of these pilots, we are currently developing plans to expand our solar project.
To keep us on track, we're partnering with the Environmental Protection Agency through its Energy Star certification program. Energy Star offers proven energy management strategies that help measure energy performance, set goals, track savings and reward improvements.
Investing in renewable energy.
To know a company's values, you need to look past mission statements and press releases. Instead, look at the way it spends resources.
We recognize that energy efficiency does more than help the environment. It also generates cost savings for our business. Now, we're evaluating ways to build positive results on both counts. One way is by investing in renewable energy. We are beginning to look at the options for purchasing renewable energy credits (REC) that will put efficiency cost savings right back into helping the environment.
For other ideas, we're soliciting input from all sides of our business. Vendors, contractors, developers and associates all contribute to our business in different ways. That gives each a unique perspective. Only through the cooperation and buy-in of all our stakeholders can we hope to implement the kind of lasting, systematic change that sustainability requires.