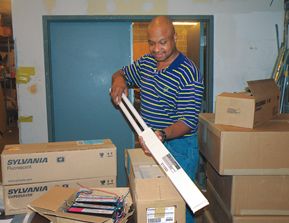 Packaging
More efficient packaging. Less waste.
Sometimes, the best solution to a problem is found by using a little common sense. When we started looking at ways to decrease our impact on the environment, our use of shipping materials immediately came to mind. We asked, how could we reduce the amount of packing materials we use?
The common-sense answer: Pack the items into fewer cartons.
That one, simple change has made a world of difference. In our direct private brand shipments, we're packing one and a half times the amount of product into each box. That's fewer cartons per trip. Less waste in our landfills. And it's only the beginning.
We are beginning to work with our domestic private brands partners to ensure that they are following suit, increasing the number of units packed per carton on domestic shipments.

We're also working to offer more sustainable packaging options across all operations. In the coming year, three-quarters of the tickets and hangtags used for our private brand merchandise will be recyclable or contain 40% or more recycled materials. Next year, our goal is even higher.
The supply chain for our private brands business plays a critical role in our environmental impact. We're setting high standards in partnership with Business for Social Responsibility (BSR) and international sourcing agent Li & Fung. Together, we're working to find factory level solutions that will improve both factory efficiency and sustainability. Our focus is long-term and creates value for our vendor partners, for Belk and for our consumers. And it is good for the environment!

Efficient packaging helps our environment and makes good business sense. It's a practical way to help our suppliers become more competitive and offers us both a way to achieve our corporate sustainability goals.