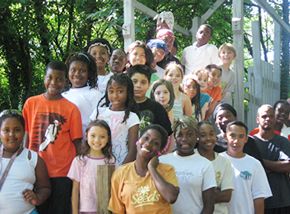 What You Can Do
Sustainability Starts at Home.
Doing our part doesn't stop in our stores. We're making efforts to become more sustainable at every location. In our distribution centers, on the road, and even in our homes, we're finding ways to use less and recycle more.
Recycle, or, better yet, find ways to conserve.
Share eco-friendly ideas at work in your local community.
Support retailers who share your passion for keeping our world clean.
Donate funds to the environmental effort that matters most to you.
Learn more about conservation at www.sierraclub.org and www.earthshare.org

In 2012 our associates and customers donated over twenty-three thousand to EarthShare.
Top 10 things to know about EarthShare
Mission: To engage individuals and organizations in creating a healthy and sustainable environment.
EarthShare was created by our member organizations more than 20 years ago, so that together they could raise public awareness of environmental issues, and the needed financial support for their programs.
How your donation to EarthShare works: Your donation to EarthShare can be designated to specific charities to support your favorite cause, or can be a general donation which is shared among all of the charities.
Our donation is far-reaching: EarthShare groups work locally, nationally and globally, whether your priority is protecting a nearby river or the Amazon.
Donor confidence: EarthShare is a Better Business Bureau/Wise Giving Alliance Accredited Charity, and annually certifies that its member organizations operate with the highest professional and ethical standards.
Cleaning our water: EarthShare groups organize beach and river clean-ups across the country, removing tons of trash and debris, giving thousands of volunteers an opportunity to make a difference in their communities. EarthShare groups also advocate for stronger laws that limit what toxins can be dumped into our waterways.
Healthy environment, healthy people: EarthShare groups work to reduce the use of chemicals in our everyday environment, to minimize our exposure to toxins that are linked to attention deficit disorder, leukemia, asthma, infertility, and certain cancers. EarthShare groups also create parks, trails, and public areas safe for children and adults to get outdoors and exercise.
Stopping deforestation: EarthShare groups work to protect areas vital for wildlife, and promote sustainable forestry through land acquisition, consumer awareness campaigns, and reduced corporate consumption.
Protecting endangered species: With over 16,000 species currently threatened or endangered, EarthShare groups work around the world to protect habitat, revitalize ecosystems and protect natural resources.
Addressing climate change: EarthShare groups work with federal, state and local governments to develop new environmental protection laws that support clean air and curb global warming pollution; they advocate for safe, alternative energy production; they work with corporations and individuals to reduce their carbon footprint; and they help protect the forests that sequester CO2 and keep it out of our atmosphere.
Belk is proud to partner with EarthShare and in 2012 our associates and customers donated over $23,000 to EarthShare through individual associate donations as well as the sale of our Belk EarthShare reusable shopping bags.