China & Dinnerware
China or dinnerware? Bone or Earthenware? There are a wide variety of options to choose from when you're selecting place settings for your dining table. Wondering what type you should register for? Confused by all the different styles and materials available? Use this handy guide to help determine what type of dinnerware best suits your needs!
Fine China:
Fine China: Thin & translucent, resistant to chipping and cracking. Composed of a fired blend of porcelain. Dishwasher safe and, if the pattern has no gold or platinum, it is also microwave safe. Always let your china cool down to room temperature before handling it because the high heat of the drying cycle temporarily softens the gold & platinum.

Bone China:
Bone China: Fine or vitrified china that contains, in addition to clays, an ingredient that gives it its characteristic whiteness. Bone china is the sturdiest of all types of dinnerware and most durable.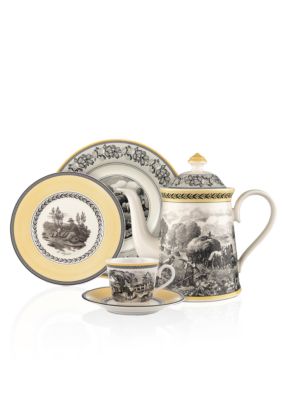 Porcelain:
Porcelain: Fine china and porcelain are so much alike that the terms are generally used interchangeably. Very durable and great for formal or casual dining. Microwave and dishwasher safe if there is no metal detail on it. Porcelain always has a polished finish - meaning you'll always have shiny plates.
Earthenware:
Earthenware: A type of clayware fired at comparatively low temperatures producing a heavy, porous plate. Its delicate construction adds formality to an event. Dishwasher safe.
Stoneware:
Stoneware: Made of dense clay and fired at a high temperature. Generally glazed in subdued, earthy tones, giving a handcrafted look. Very durable and oven, freezer, dishwasher and microwave safe.
The Table Essentials
The Table Essentials
Two of the most common items that newly engaged couples register for are place settings and serving ware. Most place settings come with five items, but these can vary depending on the manufacturer. A five-piece place setting typically includes: a dinner plate, salad plate, bread & butter plate, a teacup and a small saucer. Once you select your pattern, refer to the on-line item descriptions or ask a sales associate to help you identify items included in place setting.
Brides typically register for 8-12 place settings of their chosen dinnerware and at least one of each of the key serving pieces listed below. We recommend that you register for at least 12 place settings to accommodate for larger gatherings, especially during the holidays.
3 Piece Place Setting
3 Piece Place Setting
5 Piece Place Setting
5 Piece Place Setting
The Settings

Dinner Plate
Dinner Plate - The essential item used for dinner service, serve the main course on this plate.

Salad Plate
Salad Plate - Typically used for salad. Register for extras so that they can work double-duty.

Bread & Butter Plate
Bread and Butter Plate - typically used for serving bread and butter during the meal.

Rim Soup or Cereal Bowl
Rim Soup or Cereal Bowl - Perfect for soups, salads and pastas. Another great multi-use item!

Accent Salad Plate
Accent Salad Plate - Generally larger than the normal salad plate, most accent plates are 9 inches in diameter , as opposed to an 8" salad plate. Accent plates usually feature a slightly different pattern than your other plates, providing plenty of mix and match opportunities.

Tea Cup and Saucer and Mug
Tea Cup and Saucer and Mug - Used for serving after-dinner coffee and with dessert. You can never have too many of these!

Platter
Platter - Used as a serving tray or centerpiece

Vegetable Bowl or Serving Bowl
Vegetable Bowl or Serving Bowl - These can be used for serving vegetables, sides or salads. Don't get stuck scrambling - always keep an extra one available.
Creamer
Creamer - Great for salad dressings, syrup and extra gravy.

Covered Sugar Bowl
Covered Sugar Bowl - Used for coffee and hot tea additions. You can also store sweetener packets for those that prefer iced tea.

Covered Vegetable Bowl
Covered Vegetable Bowl - Keeps your dishes warm, including dinner rolls.

Fruit Bowl
Fruit bowl - A great all-purpose serving piece.