Sheets
Weaves: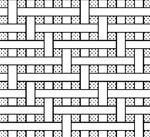 Sateen: is a distinctive weave in which the surface of the fabric is formed almost completely of exposed (lengthwise) warp yarns. Over four and under one weave. This produces a fabric with a delicate sheen and smooth surface, creating a lustrous or satiny looking luxury sheet.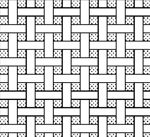 Plain Weave: is the simplest of all the weaves, and is used in about 80% of all woven goods and the majority of all sheets. One warp yarn crosses over one filling yarn alternating each row, also called an over one and under one weave.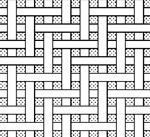 Twill Weave: is a basic weave characterized by a diagonal rib (or twill line) popularly used to produce strong menswear fabrics.
What Factors Determine the Price and Quality of Sheets?
Thread Count: is the actual number of threads woven lengthwise (warp) and crosswise (weft) into one square inch of cloth. The higher the thread count generally the softer and more luxurious the feel of the cloth. But due to many treatments and finishes lower thread counts can have a very soft and luxurious hand. The price of sheets generally increases as thread count increases.
Flannel Sheets: are woven from lower thread count cotton which has been loosely brushed to create a soft, fleecy nap (fuzzy texture) on both sides. The nap gives flannel its warmth. The air becomes trapped between the nap and the sheet and holds heat. This trapped air is heated by your body temperature and provides a layer of insulation against the cold.
Jersey Knit Sheets: are similar to flannel but does not have the nap surface. They are soft and warm and feel similar to a worn cotton t-shirt.
Cotton: Soft, absorbent, strong and very comfortable natural fiber obtained from the pod of the cotton plant. The longer the fiber, the better the quality. There are various grades and types of cotton grown throughout the world.
American Cotton: the standard cotton grown in the US. It represents approximately 90% off the world's cotton.
Pima Cotton: is a fine long staple cotton (ranging 1 3/8 to 1 5/8 inches in length), which is a cross between Egyptian and American Cotton. In the early 1900's the fiber was developed from Egyptian cotton seeds and grown by the Pima Indians in Pima County, Arizona. Today it is produced in South Western USA and is woven into extra-silky luxury cotton bed linens.
Egyptian Cotton: is the general classification given to strong, lustrous, long staple cotton grown exclusively in the Nile River Valley of Egypt. The very fine fibers average 1 1/8 to 1 � inches in length, making it one of the strongest, must lustrous cotton fibers in the world.
Supima Cotton: is a high grade staple cotton fiber. Scientifically developed in Arizona and produced only by certified growers belonging to the Supima Association of America. The 1 3/8 inch fibers are uniform in length, making them stronger than other long staple varieties, this also adds to the softness of the woven fabric. Supima cotton fibers have a natural sheen resulting in a sheet with a lustrous appearance enhanced by rich, bold colors and an extremely soft silky hand.
Blended: any of the above cottons can be combined with other fibers such as linen, silk, wool or synthetics. Generally, the better cottons are offered as unblended.
Oher Non-Traditional Finishes
Hygro Cotton: hollow core cotton threads, combine cotton and air for cushioning loft. Provides soft, light fabric with a rich drape and feel, as well as wicking away excess moisture.
Soy Cotton: made from soyacot, a proprietary blend of high-quality cotton enriched with soy. Soy is highly advantageous to skin tone and texture and has anti-bacterial, antioxidant and moisturizing properties.
Cotton Modal: made from modal which is produced from the beechwood tree. Modal has a silk like softness, high moisture absorbency easy care and durability.
What makes up a sheet set:
Twin
Twin X-Long
Full and Queen
King
One Flat Sheet
One Fitted Sheet
One Standard Pillowcase
One Flat Sheet
One X-Long Fitted Sheet
One Standard Pillowcase
One Flat Sheet
One Fitted Sheet
Two Standard Pillowcases
One Flat Sheet
One Fitted Sheet
Two King Pillowcases
The following chart indicates the standard size of linens in the U.S Marketplace.
| | | | | | |
| --- | --- | --- | --- | --- | --- |
| U.S Standards | Mattress | Flat Sheet | Fitted Sheet | Pillow | Pillowcase |
| Twin | 39" x 75" | 66" x 96" | 39" x 75" | 20" x 26" | 20" x 32" |
| Twin X-Long | 39" x 80" | 66" x 96" | 39" x 80" | 20" x 26" | 20" x 32" |
| Full | 54" x 75" | 81" x 96" | 54" x 76" | 20" x 26" | 20" x 32" |
| Queen | 60" x 80" | 90" x 102" | 60" x 80" | 20" x 30" | 20" x 32" |
| King | 76" x 80" | 108" x 102" | 72" x 80" | 30" x 36" | 20" x 40" |
| California King | 72" x 84" | 108" x 102" | 78" x 84" | 30" x 36" | 20" x 40" |
What sheet depth do I need for my mattress?
Pocket depth is an important factor to ensure that your fitted sheet will cover your mattress.
A 13" pocket will fit up to a 15" mattress
A 14" pocket will fit up to a 16" mattress
A 15" pocket will fit up to an 18" mattress
A 16" pocket will fit up to a 19" mattress
Typically a more luxurious sheet set comes with deeper pockets, the flat sheet will also be larger to fit today's mattresses.
How to care for sheets:
In general sheets and pillowcases are completely machine washable using a mild detergent. They should be tumble dried on low setting, removed from the warm dryer, and smoothing out any wrinkle, folded immediately. Wrinkling of sheets will be lessened if you promptly remove from the dryer when they are still warm. Be sure to read the care labels on sheets for specific laundering instructions.
Sheet Terms:
Hand: how a fabric feels when it is held in one's hand.
Polyester: a man made chemically produced fiber. A high resistance to abrasion gives the fabric extra strength and a long life. It is also inexpensive to make.
Cotton/Polyester Blend: Blending of cotton and polyester to make a cool crisp sheet that is easy to care for.
Silk: a natural animal fiber; silk is made of the fibers the silkworm spins into its cocoon that facilitates its metamorphosis into a moth.
Hem Treatment: Detailed finishing stitches on the flat sheet and pillowcases. This stitching can be simple or elaborate in design and sometimes includes piping or detailed fabrics that are stitched into the sheet.