Sheets 101
The average person sleeps between 7-9 hours at a time. Regardless of how much time you sleep, you deserve a great place to rest. Make your bed comfortable, cozy & restful using our Sheets 101 guide.
What Size Sheets Do You Need?
Mattress Size: 38 x 78" 38 x 80" 53 x 75" 60 x 80" 78 x 80" 72 x 84"
Sheets: Twin Sheets Twin XL Sheets Full (Double) Sheets Queen Sheets King Sheets California King Sheets
When deciding what size sheets you need, don't forget to measure the depth of your mattress as well as the length and width. Mattresses greater than 18" deep will need special sheets (usually called Extra Deep Sheets). Look for this classification on the individual product.
What About Materials & Weave?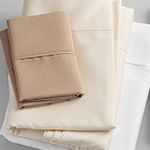 The materials & weave of a fabric affect the finish of your sheets and how they feel. Each type provides different benefits.
Cotton/Polyester Blend: A combination of natural & synthetic fibers makes this fabric one of the easiest types to care for. Different varieties of cotton/polyester blends vary according to their price and their degree of softness. Check the individual product pages to see which one suits you best.
Flannel: Made of a brushed cotton material, its thickness is measured by ounces of fabric per square yard instead of thread count. Flannel is great for those that live in colder climates or those who prefer to sleep warmly.
Percale: These sheets are lightweight and made with fibers that are very closely woven. Percale sheets usually have a smooth finish and a crisp feel to them.
Sateen: An exceptionally soft sheet that looks like satin. Sateen sheets have a smooth finish that provides a very plush sleeping experience.
Twill: Twill sheets differ from other sheets because of a small diagonal line or rib within the sheet. This happens during the weaving process.
What About Thread Count?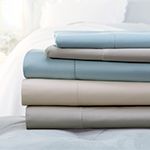 Thread count affects the overall weight & strength of your sheets. A higher thread count indicates greater density of the material. The greater the density, the more overall strength your sheet has. A higher thread count may be beneficial if you have small children or family that are more active when they sleep.