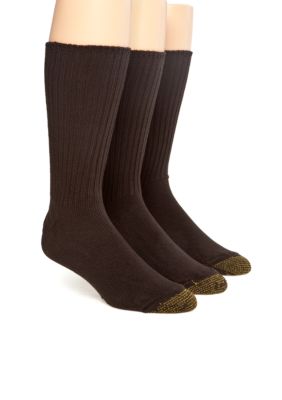 Rating Snapshot
(

16

reviews)
0
of
1
(

0%

)
customers would recommend this product to a friend.
Gold Toe® Cotton Fluffies 3 Pack Extended Size Casual Socks
Price $18.00
A thick, luxurious casual sock that pampers your feet with all-day relief. Ribbed texture provides impeccable traction and soft support.
Discover an exceptional Gold Toe® Socks selection from the latest brands at Belk. Find popular styles with the latest designs in our Gold Toe® Socks collection. It is easy to find the Gold Toe® Socks you want from the amazing assortment that we offer. Choose from a wonderful variety of styles from our Gold Toe® Socks selection at Belk.
Find this item in the nearest Belk store
To locate an item in a Belk store near you, simply select the size, color and item you are seeking, then input your Zip Code and distance OR City and State information.
Find a local store with this item in stock.
Shipping & Returns
Shipping your purchase is easy on belk.com. Depending on the destination of your package, you can expect it to arrive within 2-6 business days. Shipping Information
Returns are easy on belk.com. Easy returns
Would you recommend this product to a friend?
No
"
Gold Toe socks have really declined in quality. My husband needs extra long socks and I have purchased Gold Toe socks for him for more than 25 years. I bought 9 new pairs in November and none of them have lasted for more than a couple of wearings. Don't buy these expecting the traditional quality. These are more a one wear, then throw away product.
"
1

of

1

people found this review helpful.