Pillows
What Factors Determine the Price and Quality of Bed Pillow?
Types of Fill
Synthetic: Typically made from polyester fibers. These pillows are soft and supportive; benefits include affordability, ease of care and hypoallergenic properties.
Memory Foam: Cushions the body like no other material by self-adjusting to support every contour of the body. Allows the body to rest naturally by reducing pressure on sensitive areas.
Latex Foam: Made from rubber latex. These pillows protect against bacteria, mold and mildew. They are hypoallergenic and typically very firm.
Natural: Are made from down or down/feather blends. They provide loft and durability, making for a good investment. Sometimes criticized for causing allergies, our natural fill pillows are cleaned and treated to reduce the chance of a reaction. The difference between feathers and down is that feathers have quills or spines and down does not.
Amount of Fill
Varies in amount fill necessary for comfort and support.
Generally for synthetics the higher ounces, the firmer the pillow.
For natural fills the loft varies with the quality of down or down and feather blends.
Cover Fabrics
Also known as the pillow ticking, should be soft, absorbent fabric.
Natural filled pillows require 100% cotton cover for breath ability and high thread count to prevent down clusters from leaking through the cover.
Construction
The type and strength of the edge seam is crucial to the durability.
Corded seams create a tightly bound edge for longer wear.
Serged seams are less expensive way of finishing.
Why are "fills" important when choosing a bed pillow?
Fill determines the firmness of a bed pillow.
Selecting a pillow with the correct amount of fill for proper support and adjustability is beneficial in attaining healthy and comfortable sleep.
Medium Density are recommended for stomach sleepers.
Firm Density provides the best support for back sleepers.
Provides support for the head and neck.
X-Firm Density pillows are perfect for side sleepers.
Provides proper spine alignment and support.
How to Care for your Bed Pillow
Use both a pillowcase and a pillow protector.
Using both will decrease the need for cleaning and increase the life of your pillow.
Re-fluff synthetic pillows on "air" in a dryer.
This helps to keep the loft in the fiberfill and preserve the resiliency of your pillow.
Shake your natural filled pillow daily after use. This allows fresh air to be absorbed into the down clusters, restoring the fibers to their original fluffy shape.
When should you clean your bed pillow?
Synthetic Pillows need to be washed occasionally when the fibers become flattened and your pillow begins to lose its original shape. Machine wash in warm water on a gentle cycle and dry on low heat.
Natural Pillow should be cleaned before their fibers are compressed and support is gone. Professional dry cleaning will restore your pillow�s resiliency and fluffiness by removing the accumulated dirt and oils inside.
When should you replace your bed pillows?
When the cover fabric shows signs of wear. If your pillow has stains, holes, worn seams and unpleasant odors, or fill is leaking from the seams, it time to replace it.
When it has permanently lost its shape and support is either lumpy or flat. Your pillow is only useful as long as it supports your neck and spine properly.
Old pillows can become breeding ground for bacteria and dust mites.
Synthetic pillows should be replaced every two to three years and natural pillows can last a few years longer if cleaned regularly.
What is a pillow cover?
Encases the entire pillow to create a barrier from allergens, bacteria and dust mites.
These are great add on items to a pillow sale.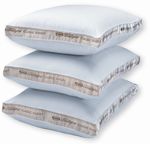 Standard Sizes of Pillows:
Standard - 20x26 inches; uses a Standard Pillowcase
Queen - 20x30 inches; uses a Standard Pillowcase
King - 20x36 inches; uses a King Pillowcase
Euro - 26x26 inches; For European Shams
Quick Reference to Pillow Vocabulary
Cluster: small three-dimensional cluster of polyester.
Polyester: man made fiber. Non-allergenic and odor free, easy care and economically priced.
-Blended Polyester: a process in which two kinds of polyester (dry and slick) are blended together to produce different densities.
-Slick Polyester: a treatment sprayed on fiber similar to applying conditioner to your hair.
White Goose Down: Soft insulating undercoat of geese. The goose is a land raised, grain fed bird. When the down is processed there is very little odor in the final product.
Duck Down: Soft insulating undercoat of ducks (usually less expensive). A duck is a waterfowl whose primary diet is fish. When the down is processed there can be a slight odor.
Hypo-Allergic: Down has been specially treated so allergy suffers will not have an allergic reaction.
Gusset: piece of material inserted into pillow to reinforce seams while creating loft in pillow.