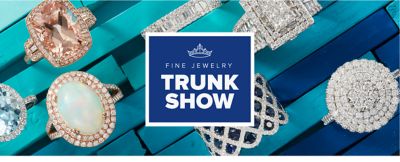 A trunk show is an exclusive event where a fine jewelry brand/vendor representative offers special pieces for purchase that are not available in Belk stores or at belk.com
WHICH BRANDS SCHEDULE TRUNK SHOWS WITH BELK?
*Alberto jewelry is only available during some trunk show events. It is not available in stores nor online outside these events.
---
HOW DO I MAKE AN APPOINTMENT TO ATTEND A SHOW?
Scheduling an appointment is strongly recommended. This enables our associates to plan one-on-one time with customers. Please call or visit the store to schedule your appointment.
CAN I REQUEST SPECIAL PIECES?
Yes. Simply call the participating store up to 2 days prior to the show date, and ask the fine jewelry counter manager to contact the vendor representative with your special request.
---
FIND SHOWS IN YOUR STATE BELOW
| | | | |
| --- | --- | --- | --- |
| Store Name | Date | Brand | Phone No. |
| Belk Auburn AL | Mon, March 28, 2022 | EFFY | 334-821-1007 |
| Belk Birmingham AL - Riverchase | Wed, March 30, 2022 | EFFY | 205-987-4200 |
| Belk Birmingham AL - Riverchase | Mon, June 20, 2022 | LEVIAN | 205-987-4200 |
| Belk Birmingham AL - Summit | Thurs, March 31, 2022 | EFFY | 205-968-4200 |
| Belk Birmingham AL - Summit | Tue, May 10, 2022 | LEVIAN | 205-968-4200 |
| Belk Dothan AL | Wed, June 22, 2022 | LEVIAN | 334-671-2400 |
| Belk Cullman AL | Tue, May 24, 2022 | EFFY | 256-734-8941 |
| Belk Huntsville AL - Bridge Street | Mon, March 14, 2022 | LEVIAN | 256-722-2400 |
| Belk Huntsville AL - Bridge Street | Wed, May 25, 2022 | EFFY | 256-722-2400 |
| Belk Huntsville AL - Parkway | Tue, March 15, 2022 | LEVIAN | 256-551-4200 |
| Belk Huntsville AL - Parkway | Thurs, May 26, 2022 | EFFY | 256-551-4200 |
| Belk Mobile AL | Tue, May 3, 2022 | EFFY | 251-470-5400 |
| Belk Mobile AL | Tue, July 19, 2022 | LEVIAN | 251-470-5400 |
| Belk Montgomery AL | Tue, May 17, 2022 | EFFY | 334-270-2400 |
| Belk Montgomery AL | Tue, June 21, 2022 | LEVIAN | 334-270-2400 |
| Belk Montgomery AL | Wed, Jun 30, 2021 | LEVIAN | 334-270-2400 |
| Belk Prattville AL | Wed, May 18, 2022 | EFFY | 334-285-3419 |
| Belk Rock Hill AL | Wed, February 9, 2022 | LEVIAN | 803-366-9471 |
| Belk Rock Hill AL | Thurs, July 14, 2022 | EFFY | 803-366-9471 |
| Belk Spanish Fort AL | Wed, July 20, 2022 | LEVIAN | 251-621-5752 |
| Belk Trussville AL | Mon, May 9, 2022 | LEVIAN | 205-655-2694 |
| Belk Tuscaloosa AL | Wed, May 11, 2022 | LEVIAN | 205-554-2400 |
| | | | |
| --- | --- | --- | --- |
| Store Name | Date | Brand | Phone No. |
| Belk Cape Coral FL | Thurs, February 10, 2022 | LEVIAN | 239-282-5692 |
| Belk Destin FL | Thurs, May 5, 2022 | EFFY | 850-650-4091 |
| Belk Gainesville FL | Mon, July 25, 2022 | LEVIAN | 352-331-3535 |
| Belk Gainesville FL | Tue, July 26, 2022 | LEVIAN | 352-331-3535 |
| Belk Jacksonville FL - Atlantic | Mon, February 28, 2022 | LEVIAN | 904-725-7744 |
| Belk Jacksonville FL - Avenues | Fri, April 8, 2022 | EFFY | 904-363-1100 |
| Belk Jacksonville FL - Orange Park | Thurs, April 7, 2022 | EFFY | 904-269-1211 |
| Belk Jacksonville FL - Orange Park | Thurs, July 28, 2022 | LEVIAN | 904-269-1211 |
| Belk Ft. Myers FL | Wed, February 9, 2022 | LEVIAN | 239-415-1015 |
| Belk Lady Lake FL | Wed, February 23, 2022 | EFFY | 352-753-0227 |
| Belk Lady Lake FL | Thurs, Jul 29, 2021 | LEVIAN | 352-753-0227 |
| Belk Lakeland FL | Tue, February 8, 2022 | LEVIAN | 863-688-7872 |
| Belk Leesburg FL | Thurs, February 24, 2022 | EFFY | 352-787-3412 |
| Belk Ocala FL | Tue, April 5, 2022 | EFFY | 352-237-1200 |
| Belk Ocala FL | Wed, July 27, 2022 | LEVIAN | 352-237-1200 |
| Belk Palm Coast FL | Mon, February 7, 2022 | LEVIAN | 386-446-1880 |
| Belk Pensacola FL | Wed, May 4, 2022 | EFFY | 850-484-3300 |
| Belk Pensacola FL | Thurs, July 21, 2022 | LEVIAN | 850-484-3300 |
| Belk Tallahassee FL | Wed, March 2, 2022 | LEVIAN | 850-422-6200 |
| | | | |
| --- | --- | --- | --- |
| Store Name | Date | Brand | Phone No. |
| Belk Athens GA | Tue, July 12, 2022 | LEVIAN | 770-720-1125 |
| Belk Brunswick GA | Wed, May 25, 2022 | LEVIAN | 912-264-3516 |
| Belk Canton GA | Mon, June 20, 2022 | LEVIAN | 706-353-0060 |
| Belk Carrollton GA | Wed, June 22, 2022 | LEVIAN | 770-832-1421 |
| Belk Centerville GA | Wed, June 15, 2022 | LEVIAN | 478-953-7422 |
| Belk Cumming GA | Wed, May 18, 2022 | EFFY | 770-889-5998 |
| Belk Cumming GA | Wed, July 13, 2022 | LEVIAN | 770-889-5998 |
| Belk Evans GA | Mon, July 11, 2022 | LEVIAN | 706-849-8015 |
| Belk Kennesaw GA | Wed, April 20, 2022 | EFFY | 770-514-5200 |
| Belk Kennesaw GA | Thurs, July 14, 2022 | LEVIAN | 770-514-5200 |
| Belk Newnan GA | Thurs, June 23, 2022 | LEVIAN | 678-291-9980 |
| Belk Norcross GA | Thurs, May 19, 2022 | EFFY | 770-251-4335 |
| Belk Marietta GA | Tue, June 21, 2022 | LEVIAN | 770-590-9665 |
| Belk Rome GA | Tue, April 19, 2022 | EFFY | 706-295-7387 |
| Belk Snellville GA | Tue, May 17, 2022 | EFFY | 678-344-8484 |
| Belk Savannah GA | Tue, May 17, 2022 | EFFY | 912-352-1830 |
| Belk Savannah GA | Thurs, July 28, 2022 | EFFY | 912-352-1830 |
| Belk Statesboro GA | Mon, May 23, 2022 | LEVIAN | 912-352-1830 |
| Belk Valdosta GA | Tue, March 1, 2022 | LEVIAN | 229-244-6391 |
| Belk Winder GA | Thurs, June 16, 2022 | LEVIAN | 770-586-5955 |
| | | | |
| --- | --- | --- | --- |
| Store Name | Date | Brand | Phone No. |
| Belk Bossier City LA | Tue, April 19, 2022 | EFFY | 318-747-0874 |
| Belk Monroe LA | Wed, April 20, 2022 | EFFY | 318-361-2213 |
| Belk Denham Springs LA | Wed, June 1, 2022 | EFFY | 225-271-3810 |
| Belk North Shore LA | Wed, March 9, 2022 | LEVIAN | 985-809-0366 |
| Belk North Shore LA | Thurs, June 2, 2022 | EFFY | 985-809-0366 |
| | | | |
| --- | --- | --- | --- |
| Store Name | Date | Brand | Phone No. |
| Belk Biloxi MS | Mon, May 2, 2022 | EFFY | 228-385-7470 |
| Belk Biloxi MS | Mon, July 18, 2022 | LEVIAN | 228-385-7470 |
| Belk Columbus MS | Thurs, May 12, 2022 | LEVIAN | 662-241-4443 |
| Belk Flowood MS | Tue, March 1, 2022 | LEVIAN | 601-919-5000 |
| Belk Flowood MS | Thurs, June 23, 2022 | EFFY | 601-919-5000 |
| Belk Hattiesburg MS | Tue, March 8, 2022 | LEVIAN | 601-261-0016 |
| Belk Hattiesburg MS | Mon, June 20, 2022 | EFFY | 601-261-0016 |
| Belk Natchez MS | Mon, March 7, 2022 | LEVIAN | 601-442-5559 |
| Belk Ridgeland MS | Mon, February 28, 2022 | LEVIAN | 601-991-2017 |
| Belk Ridgeland MS | Wed, June 22, 2022 | EFFY | 601-991-2017 |
| | | | |
| --- | --- | --- | --- |
| Store Name | Date | Brand | Phone No. |
| Belk Asheboro NC | Thurs, March 3, 2022 | LEVIAN | 336-629-9161 |
| Belk Asheville NC | Tue, March 22, 2022 | EFFY | 704-364-4251 |
| Belk Asheville NC | Tue, April 26, 2022 | LEVIAN | 704-364-4251 |
| Belk Burlington NC | Tue, March 1, 2022 | EFFY | 336-584-8282 |
| Belk Charlotte NC - Northlake | Thurs, April 28, 2022 | LEVIAN | 704-598-2771 |
| Belk Charlotte NC - Southpark | Thurs, Mar 31, 2022 | EFFY | 704-364-4251 |
| Belk Charlotte NC - Southpark | Wed, May 4, 2022 | LEVIAN | 704-364-4251 |
| Belk Concord NC | Thurs, Mar 24, 2022 | EFFY | 704-786-7111 |
| Belk Concord NC | Tue, May 3, 2022 | LEVIAN | 704-786-7111 |
| Belk Durham NC | Tues, Mar 1, 2022 | EFFY | 919-361-8868 |
| Belk Fayetteville NC | Mon, February 7, 2022 | LEVIAN | 910-864-1111 |
| Belk Fayetteville NC | Wed, March 16, 2022 | EFFY | 910-864-1111 |
| Belk Gastonia NC | Wed, June 15, 2022 | LEVIAN | 704-867-3671 |
| Belk Goldsboro NC | Tue, March 15, 2022 | EFFY | 919-778-5050 |
| Belk Greensboro NC | Wed, July 13, 2022 | LEVIAN | 336-292-0960 |
| Belk Greensboro NC | Tue, March 29, 2022 | EFFY | 336-292-0960 |
| Belk Greenville NC | Mon, March 14, 2022 | EFFY | 252-355-8000 |
| Belk Greenville NC | Thurs, July 14, 2022 | LEVIAN | 252-355-8000 |
| Belk Hickory NC | Wed, March 23, 2022 | EFFY | 828-322-7010 |
| Belk Hickory NC | Mon, July 11, 2022 | LEVIAN | 828-322-7010 |
| Belk High Point NC | Tue, February 8, 2022 | LEVIAN | 336-884-8512 |
| Belk Hendersonville NC | Mon, February 28, 2022 | EFFY | 828-692-3236 |
| Belk Kill Devil Hills NC | Mon, February 21, 2022 | LEVIAN | 252-480-2355 |
| Belk Hendersonville NC | Tue, June 14, 2022 | EFFY | 828-692-3236 |
| Belk New Bern NC | Thurs, February 24, 2022 | LEVIAN | 252-633-1136 |
| Belk Monroe NC | Thurs, May 5, 2022 | LEVIAN | 704-289-6551 |
| Belk Monroe NC | Tue, July 19, 2022 | EFFY | 704-289-6551 |
| Belk Monroe NC | Tue, July 19, 2022 | EFFY | 704-289-6551 |
| Belk Mooresville NC | Wed, March 2, 2022 | EFFY | 704-664-2593 |
| Belk Mooresville NC | Wed, April 27, 2022 | LEVIAN | 704-664-2593 |
| Belk Morehead City NC | Wed, July 13, 2022 | LEVIAN | 252-727-0980 |
| Belk Morganton NC | Tue, March 1, 2022 | EFFY | 828-437-3681 |
| Belk Pineville NC | Thurs, March 3, 2022 | EFFY | 704-543-9888 |
| Belk Pineville NC | Thurs, June 16, 2022 | LEVIAN | 704-543-9888 |
| Belk Raleigh NC | Thurs, March 3, 2022 | EFFY | 919-782-7010 |
| Belk Rocky Mount NC | Tue, February 22, 2022 | LEVIAN | 252-977-2355 |
| Belk Salisbury NC | Mon, May 2, 2022 | LEVIAN | 704-636-5241 |
| Belk Salisbury NC | Wed, July 20, 2022 | EFFY | 704-636-5241 |
| Belk Shallotte NC | Thurs, March 17, 2022 | LEVIAN | 910-755-0939 |
| Belk Shallotte NC | Thurs, May 19, 2022 | EFFY | 910-755-0939 |
| Belk Southern Pines NC | Thurs, March 17, 2022 | EFFY | 910-692-6088 |
| Belk Southern Pines NC | Thurs, July 14, 2022 | LEVIAN | 910-692-6088 |
| Belk Spartanburg NC | Mon, March 7, 2022 | LEVIAN | 864-574-1660 |
| Belk Waynesville NC | Mon, June 13, 2022 | LEVIAN | 828-452-5117 |
| Belk Wilmington NC - Independence | Mon, July 11, 2022 | LEVIAN | 910-392-1440 |
| Belk Wilmington NC - Mayfaire | Wed, May 18, 2022 | EFFY | 910-256-2115 |
| Belk Wilmington NC - Mayfaire | Tue, July 12, 2022 | LEVIAN | 910-256-2115 |
| Belk Wilson NC | Wed, February 23, 2022 | LEVIAN | 252-265-4214 |
| Belk Winston Salem NC | Tue, July 12, 2022 | LEVIAN | 336-768-9200 |
| Belk Winston Salem NC | Thurs, July 21, 2022 | EFFY | 336-768-9200 |
| | | | |
| --- | --- | --- | --- |
| Store Name | Date | Brand | Phone No. |
| Belk Anderson SC | Tue, July 12, 2022 | EFFY | 864-225-2511 |
| Belk Charleston SC | Mon, March 14, 2022 | LEVIAN | 843-571-5420 |
| Belk Columbia SC - Columbiana | Wed, March 9, 2022 | LEVIAN | 803-781-4100 |
| Belk Columbia SC - Sandhill | Thurs, March 10, 2022 | LEVIAN | 803-419-7878 |
| Belk Columbia SC - Sandhill | Tue, June 21, 2022 | LEVIAN | 803-419-7878 |
| Belk Easley SC | Thurs, June 23, 2022 | EFFY | 864-859-8771 |
| Belk Greenville SC | Tue, March 8, 2022 | LEVIAN | 864-297-3200 |
| Belk Greenville SC | Wed, June 22, 2022 | EFFY | 864-297-3200 |
| Belk Mount Pleasant SC | Tue, March 15, 2022 | LEVIAN | 843-884-2841 |
| Belk Mount Pleasant SC | Tue, July 26, 2022 | EFFY | 843-884-2841 |
| Belk Myrtle Beach SC | Wed, March 16, 2022 | LEVIAN | 843-448-1516 |
| Belk Myrtle Beach SC | Wed, June 8, 2022 | EFFY | 843-448-1516 |
| Belk North Myrtle Beach SC | Thurs, June 9, 2022 | EFFY | 843-272-4200 |
| Belk Spartanburg SC | Wed, July 13, 2022 | EFFY | 864-574-1660 |
| | | | |
| --- | --- | --- | --- |
| Store Name | Date | Brand | Phone No. |
| Belk Bristol TN | Mon, April 25, 2022 | LEVIAN | 423-274-2600 |
| Belk Johnson City TN | Thurs, June 30, 2022 | LEVIAN | 423-282-1994 |
| Belk Kingsport TN | Wed, June 29, 2022 | LEVIAN | 423-245-4121 |
| Belk Knoxville TN - West Town | Tue, June 28, 2022 | LEVIAN | 865-693-4000 |
| Belk Chattanooga TN - Hamilton | Mon, April 25, 2022 | EFFY | 423-899-3148 |
| Belk Chattanooga TN - Hamilton | Mon, June 13, 2022 | LEVIAN | 423-899-3148 |
| Belk Chattanooga TN - Northgate | Tue, June 14, 2022 | LEVIAN | 423-875-2734 |
| Belk Franklin TN | Wed, March 16, 2022 | LEVIAN | 615-771-3200 |
| Belk Knoxville TN - Turkey Creek | Tue, April 26, 2022 | EFFY | 865-966-9881 |
| Belk Knoxville TN - West Town | Wed, April 27, 2022 | EFFY | 865-693-4000 |
| Belk Oak Ridge TN | Mon, June 27, 2022 | EFFY | 972-547-4310 |
| Belk Sevierville TN | Thurs, April 28, 2022 | EFFY | 865-908-9113 |
| | | | |
| --- | --- | --- | --- |
| Store Name | Date | Brand | Phone No. |
| Belk Euless TX | Tue, March 29, 2022 | LEVIAN | 817-685-1700 |
| Belk Flower Mound TX | Tue, April 19, 2022 | LEVIAN | 972-539-0849 |
| Belk Kerrville TX | Mon, March 28, 2022 | LEVIAN | 830-257-6800 |
| Belk Mckinney TX | Tue, April 19, 2022 | EFFY | 972-547-4310 |
| Belk New Braunfels TX | Wed, April 20, 2022 | LEVIAN | 830-620-9043 |
| Belk Rockwall TX | Thurs, March 31, 2022 | LEVIAN | 865-482-4045 |
| Belk Rockwall TX | Wed, April 20, 2022 | EFFY | 972-722-6175 |
| | | | |
| --- | --- | --- | --- |
| Store Name | Date | Brand | Phone No. |
| Belk Charlottesville VA | Thurs, March 10, 2022 | EFFY | 434-973-7878 |
| Belk Charlottesville VA | Wed, June 29, 2022 | LEVIAN | 434-973-7878 |
| Belk Danville VA | Wed, April 20, 2022 | EFFY | 434-792-6211 |
| Belk Fredericksburg VA | Wed, March 9, 2022 | EFFY | 540-786-7100 |
| Belk Fredericksburg VA | Tue, June 28, 2022 | LEVIAN | 540-786-7100 |
| Belk Harrisonburg VA | Mon, June 27, 2022 | LEVIAN | 540-434-4477 |
| Belk Lynchburg VA | Tue, March 8, 2022 | EFFY | 434-237-6611 |
| Belk Lynchburg VA | Thurs, June 30, 2022 | LEVIAN | 434-237-6611 |
| Belk Roanoke VA - Tanglewood | Tue, April 19, 2022 | EFFY | 540-989-0851 |
---