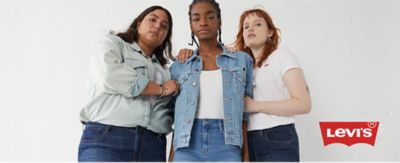 Levi's® Women's Jeans & Clothing
Levi's® is an iconic denim brand recognized all over the world for popularizing different styles and designs of jeans for men and women. Every wardrobe is incomplete without a pair of jeans – and if you have a pair of Levi's® jeans, it takes your style quotient a few notches higher. Shop for the best of Levi's® women's jeans and clothing at attractive prices and in a range of styles and sizes.
We offer skinny and slim fit jeans or when you're in the mood for something relaxed and comfy, check out Levi's® bootcut and boyfriend jeans. Levi's® also offers ripped and cropped jeans for those times you're feeling wild and rebellious. Round out the look with a graphic tee or sweatshirt. Jeans are more than blue and black. Discover more colors and washes, including washes in brown, grey, green, purple, fuchsia, aqua and pink. Zip-up jeans are also available in camo prints that are always in fashion. Slip on a Levi's® trucker jacket for a full denim look. During warmer weather, don't forget a pair of women's Levi's® shorts.
Shop the selection of regular and Levi's® plus size jeans and clothing at Belk for a classic denim style that never goes out of fashion.