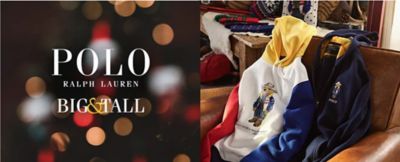 Polo Ralph Lauren Big and Tall
Embrace the classic styling and legendary quality of Polo Ralph Lauren in your size. You want to look sharp, with classic men's casual sportswear while feeling comfortable and relaxed. Polo Ralph Lauren Big and Tall shirts, pants, jackets and men's underwear are designed and tailored to you look and feel your best.
Whether you select the iconic polo from Polo Ralph Lauren Big and Tall in a soft, breathable cotton mesh, or a traditional long sleeve sports shirt, you will find the cut, contouring and detailing you need for a comfortable fit. Pair it with jeans for a casual weekend or slacks for business casual. Transition to cooler weather by adding a soft sweater with a V-neck for a timeless and tailored look that is always on trend. Finish with a pair of loafers or driver shoes for a look of easy elegance.
With Polo Ralph Lauren Big and Tall for sale at Belk, you have found the style, quality and fit you can rely on. The commitment to craftsmanship using only first-rate fabrics has made Ralph Lauren an iconic brand for over 50 years. The entire Polo Ralph Lauren Big and Tall line is easy to wear. The outfits are easy to mix and match to keep your look and your wardrobe fresh while also being easy to care for. Belk and Polo Ralph Lauren keep you looking and feeling great.