Welcome to Making a Difference
We appreciate the support of our southern communities, so we give it right back.
We're committed to making our local communities stronger by helping out in the event of a disaster, providing educational assistance to those that need it and continuously working to find a cure for breast cancer. Being family-owned means that we're a family front and center and that's a pledge we made over 125 years ago.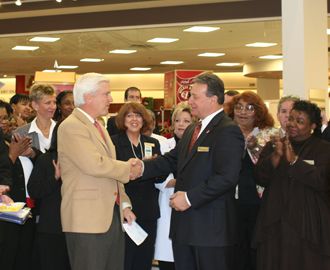 We focus on three key areas:
Education
We believe that education is the cornerstone of success, and we contribute to charities that share this belief. Our efforts are making an investment not only in young minds, but in the future.
Breast Cancer
Inspired by the women who have helped make our company great, Belk is committed to the ongoing effort to cure breast cancer. By supporting and donating to breast cancer awareness and research efforts, we hope to make a difference in the lives of women.
Community
We're hoping to change the world, and we're starting in our own backyard. We give generously of our money and our volunteer time to local charities that support initiatives in the neighborhoods where our customers and associates live and work.