How we give.
Our charitable giving takes shape in many ways.
The Belk Foundation: A private family foundation focused on youth education that has been supported by the company since 1928.
Associate giving: Belk associates donated $800,000 in 2009 to organizations such as United Way, Classroom Central, and Good Neighbor.
Customer giving: Belk customers gave $10 million through Belk Charity Days and directly to Susan G. Komen for the Cure.
Special events: Belk stores host more than 400 community appreciation events annually.
Direct giving: Belk donates millions of dollars each year to charities that align with our areas of charity focus.

The Belk Foundation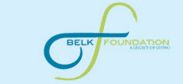 The Belk family has a long history of giving back to the communities that have supported the success of Belk stores. The Belk Foundation is the public expression of their gratitude. With a belief that education is the basis for a successful society, it invests heavily in organizations that help students complete high school and continue toward college, a career, and continued success.