First Belk store, Monroe, N.C., circa late 1880s and the Belk founders William Henry Belk, left, and Dr. John M. Belk.
Belk History
Generations of Southern shoppers have come to rely on their local Belk department stores to provide the latest fashions, quality merchandise, friendly service, fair prices and a satisfaction-guaranteed policy. It's a retail tradition built on humble beginnings.
Twenty-six-year-old William Henry Belk had been a store clerk for 12 years when, on May 29, 1888, he opened a small bargain store in the rural farming community of Monroe, North Carolina. He named it the New York Racket in hopes the name would attract customers and began practicing retail tactics that were unique for the time and place. Sales were strictly cash. Prices were clearly marked so there was no haggling. And, customers could return goods for an exchange or full refund if not completely satisfied. In 1893, William Henry persuaded his brother, Dr. John M. Belk, to leave his medical practice and join him as a partner in the business. Together, they expanded the company throughout the Carolinas and the South as the company flourished and grew.
Today, Belk is in the third generation of family leadership. Thomas M. (Tim) Belk, Jr. is chairman and chief executive officer; H.W. McKay Belk is president and chief merchandising officer; and John R. (Johnny) Belk is president and chief operating officer. They are sons of the late Thomas M. Belk, former Belk president, and nephews of the late John M. Belk, former Belk chairman and CEO. The exemplary leadership of Tom Belk and John Belk, sons of founder William Henry Belk, provided a strong foundation for the company's growth and success.
Belk is the nation's largest privately owned mainline department store company with more than 300 fashion department stores in 16 contiguous Southern states and sales totaling $3.5 billion in its past fiscal year. The company has continued to expand its retail leadership position in key Southern markets by acquiring the Proffitt's/McRae's and Parisian department store groups from Saks Incorporated in 2005 and 2006, respectively. Belk also opens new stores and expands existing stores each year as part of its long-term growth strategy. In 2006, Belk acquired the assets of Mississippi-based Migerobe, Inc. fine jewelry company and established a fine jewelry division at its corporate offices in Charlotte. Belk and Co. Fine Jewelers shops now offer a wide assortment of fine jewelry, watches and quality gift items in more than 150 Belk stores.
Superior customer service is a hallmark of Belk stores. The company's more than 20,000 associates strive to continually meet the changing needs of customers by providing prompt, courteous, professional service to ensure complete satisfaction with every shopping visit. Belk also enjoys a long-standing reputation for excellence in community service and philanthropy. The company and its associates support innumerable civic and charitable organizations and worthy causes in communities throughout the South.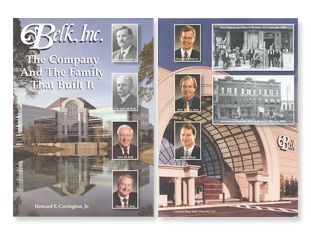 Belk, Inc. — The Company and the Family That Built It

Belk, Inc. -- The Company and the Family That Built It by Howard E. Covington Jr. traces the story of the Belk department store organization from its founding in 1888 to 2002. The book is an update of one written by Covington and published in 1988 upon the company's 100th anniversary. It provides a more complete account of the second generation of Belk leaders and the dynamics of family leadership and control that shaped the company's first century. It also introduces new chapters that recount the steps toward consolidation, the creation of Belk, Inc. in 1998 and the emerging leadership of third generation Belk family members.
Chapters