Welcome to a Rich Heritage
Since 1888, the Southern woman has come to rely on Belk first, for her, for her family, for life.
What began as a small bargain store in Monroe, NC has grown into the nation's largest privately held department store. Founder William Henry Belk's dedication to friendly service, fair prices and community involvement hasn't changed – in fact, it's stronger than ever.
1888:
William Henry Belk opens his first store in Monroe, NC with $750 in savings, a $500 loan, and $3,000 worth of goods taken on consignment.

He convinces his brother, Dr. John Belk, to join as his partner. The business flourishes, often through store partnerships with trusted businessmen.

2010:
Belk launches a fresh new logo and tagline, firmly establishing Belk as the destination for "Modern. Southern. Style."
2013:
Belk celebrates 125 years… and growing.
The Future
Belk is investing millions in store renovations and technology enhancements to better serve the desires of our valued guests.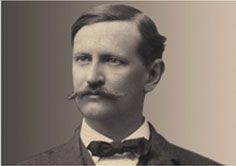 William Henry Belk
New York Racket Employees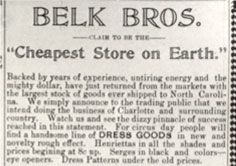 Belk Brothers Advertisement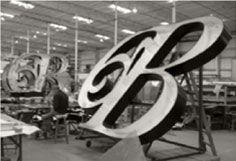 The big "B"