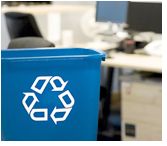 Creating a greener world.
Sustainability is all about caring for our community. That's what makes it an integral part of our corporate values.
Acting responsibly in our business practices includes protecting and preserving the world around us. As a company, we have a long-standing commitment to taking care of our communities.
We are now expanding that commitment to include the environmental aspect of our communities as well.
Initiatives include:
Corporate Social Responsibility
Making a difference starts with measuring our current environmental impact. We engaged with Business for Social Responsibility (BSR) beginning in 2011 to measure and reduce our carbon footprint.BSR's global network of more than 250 member companies develops sustainable business strategies and solutions through consulting, research, and cross-sector collaboration.
We have measured "scopes" one and two of our carbon footprint and are working on our strategy to reduce our emissions. A key part of this strategy includes the hiring of a Director of Sustainability in 2013.
Scope 1 includes emissions from company-owned or controlled equipment. Scope 2 includes emissions from purchased electricity, gas and fuel used in company operations.
Accounting for emissions of harmful greenhouse gases that cause pollution and affect climate change is a key objective of our long-term sustainability efforts.
Environmental sustainability is not only an ethical obligation; it's good for our business.
—Tim Belk, Chairman and CEO